---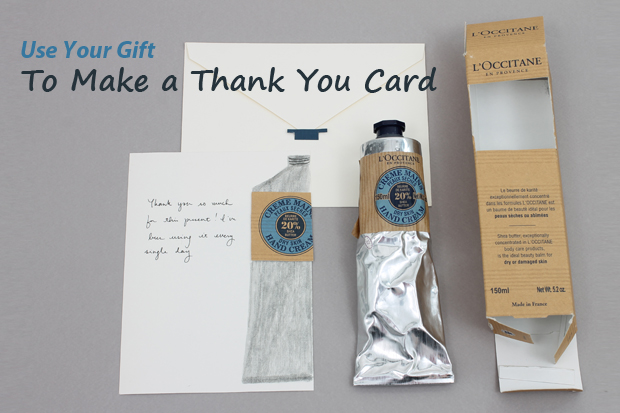 The holidays are over, the gifts are unwrapped, and everyone's gone home. Now what?
We're not ready to let go of the holidays quite yet. To keep the holiday spirit alive, we're writing Thank You cards for the gifts we received over the holiday season! Show how much you appreciate the time and care put into your gift by incorporating it into a Thank You card. Here's one neat way to do just that.
MAKE YOUR OWN THANK YOU CARD
---
What We Used: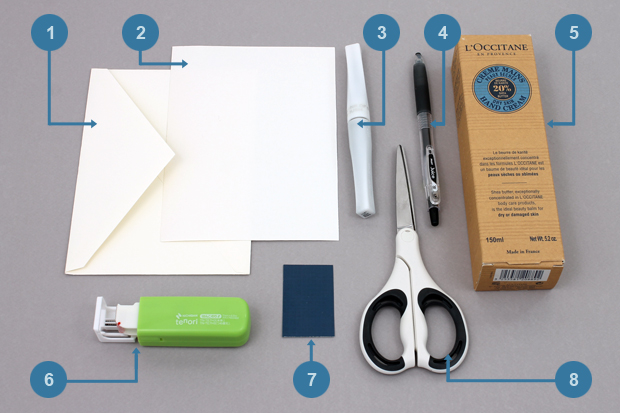 1. Envelope
2. White card stock
3. Silver brush pen
4. Black gel ink pen
5. Your gift
6. Glue stick
7. Blue paper
8. Scissors
Step One: Draw the Gift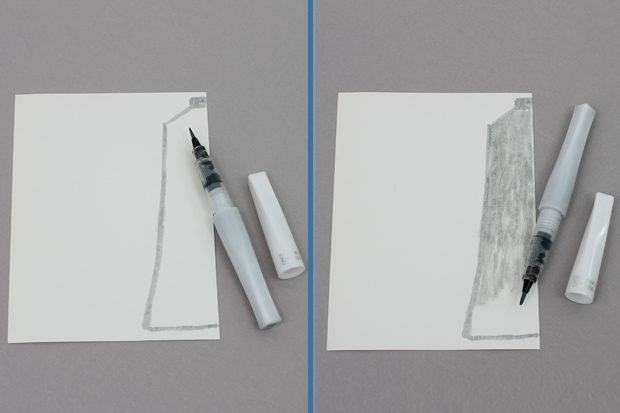 On white cardstock, draw in the product. In this case, we used a silver brush pen to mimic the metallic tube of the lotion.
Step Two: Use the Box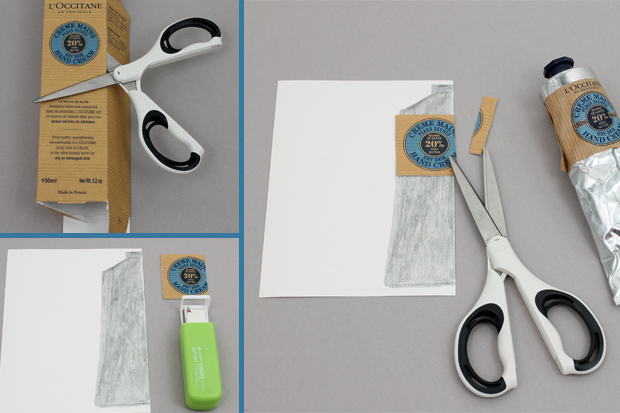 Cut out the portion of the box you want to use. Glue it to your card to recreate the product.
Step Three: Assemble the Card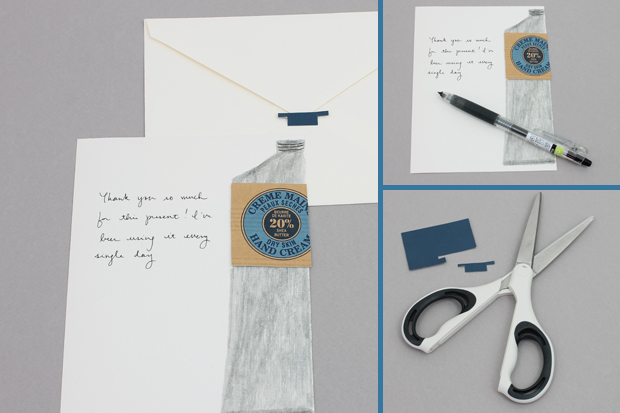 Cut a small piece of blue paper to make the cap of the tube. Write your thank you message and voila! You've made a unique and heartfelt Thank You card.
Be Creative!
There are so many more ways to feature a gift in your Thank You card. For instance, you could cut out part of the bag it came in to, or paste the product label on the card, or even take a photo of your gift and make it into a card. You can do this with any gift you've received. All you need are scissors, cardstock, glue, and your imagination.
This kind of personalized card is perfect to convey your gratitude for someone's thoughtfulness and kindness. If you use any of these ideas to make your own Thank You card, please send them our way! We'd love to see them.
Products we used to make these crafts:

Kokuyo AiroFit Non-Stick Scissors
Dare we say, the perfect crafting scissors? These special AiroFit scissors from Japan are not only ergonomic, but they also feature a special coating that prevents any sticky buildup. It's an ideal tool for the office, warehouse, and craft makers. Slim and wide handle models are available to accommodate your hand size and preference.

Nichiban Tenori Adhesive Stamp
We can't go back to using a regular glue stick! Nichiban's Tenori adhesive stamp lets you apply adhesive by stamping or rolling without the mess of traditional glue. It's perfect for pasting photos, scrapbooking, making envelopes, and other craftwork.

Kuretake Zig Wink of Stella Glitter Brush Pen
Glitter fans rejoice! Once the dazzling Zig Wink of Stella glitter brush pen adds its fairy tale touch to your decorative projects, they will look as if they were sprinkled with pixie dust. The soft nylon brush tip lays down thick and thin lines of shimmery color. We used the silver color today to recreate the metallic look of aluminum.

Pilot Juice Gel Ink Pen - 0.7 mm
These are our go to pens for juicy, vivid color! With more colors than we can count, these gel ink pens contain brilliant pigment based ink. They can write on most photographs, and the pastel and metallic colors are fun to try on dark papers.
Ideas from "Arigatou no Katachi, Thank you card 170" by Yukiko Inoue (ISBN4-579-20983-4).
Pilot Juice Pen Set Giveaway!
This giveaway is now closed. Congrats to our winner, Meg D. of Salvisa, Kentucky, on winning these awesome pens!
Check out our Pen Perks Page to see if there are any current giveaways!
One lucky winner will receive a complete set of Pilot Juice 0.7 mm Gel Ink Pens! We just used the black Juice gel pen in this project, but with all 24 vibrant colors on hand, the possibilities are endless!
Rules and Instructions:
1. To enter, please follow this link to our entry submission page!
2. Please note that this contest is limited to U.S. residents at least 18 years of age.
3. Entries will be accepted from now until January 14, 2014 at Midnight Pacific.
4. One winner will be selected at random from all entries and announced on the entry submission page once the prize is claimed.
Official Contest Rules
Official Contest Rules
---
---
---
comments powered by Disqus