---
An updated article on pressurized pens is available here.
Here at JetPens, we carry some excellent examples of Japanese ingenuity. We decided to feature our ballpoint pens that are pressurized, so that they will write almost anywhere! Normal pens utilize gravity to create ink flow onto a paper. These ballpoint pens however, allow internal compressed air pressure to basically push their ink out onto the paper.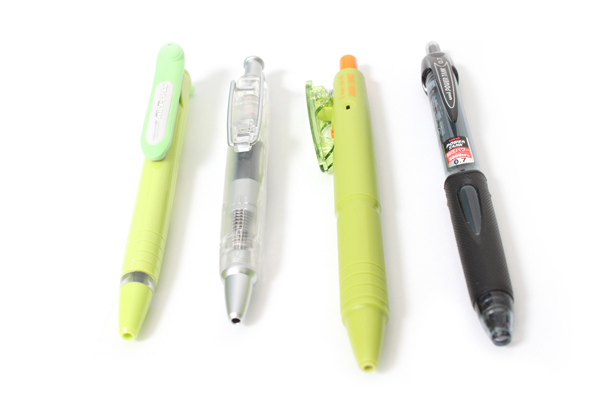 Listed in order from left to right: 1.
Tombow AirPress Apro Ballpoint Pen - 0.7 mm - Green
2.
Tombow AirPress Ballpoint Pen - 0.7 mm - 2010 New Body Color - Clear Body
3.
Pilot Down Force Ballpoint Pen - 0.7 mm - Moss Green Body - Black Ink
4.
Uni-ball Power Tank Ballpoint Pen - 0.7 mm - Black Body - Black Ink
All of these pens boast the ability to write in extremely cold conditions, zero-gravity environments, on wet surfaces and at any angle. We put one of those claims to the test, by thoroughly soaking a page of our
Rhodia DotPad Notepad
with a
Pentel Aquash Waterbrush Pen
, for a writing test.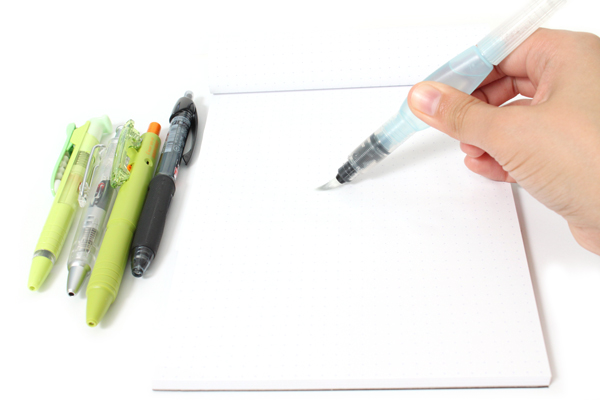 First we wrote with the
Tombow AirPress Ballpoint Pen
. Both versions have the exact same internal parts and writing performance, the only difference is the body style. The word "Tombow Airpress" was written with the
Apro version
(designed with a sturdy clip perfect for your apron) and the three lines underneath were written with the
original version
, that has a durable body designed for strenuous conditions like constructions sites.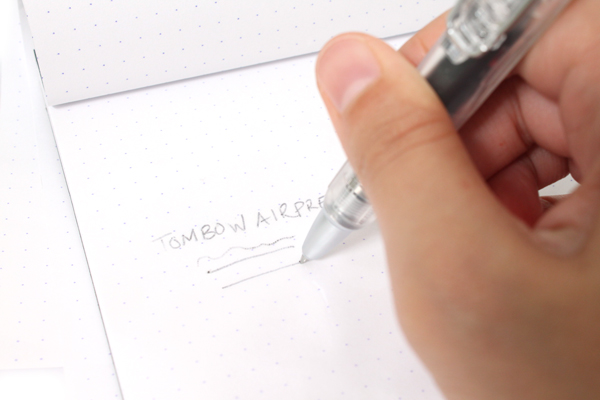 Writing on the wet paper was not necessarily ideal, but the ink came out well enough to read perfectly (it looks a little light in the photograph because of our professional grade flash and light box). Next, we wrote with the
Pilot Down Force ballpoint pen
. This pen performed just as well as the two Tombow pens, with a steady ink flow just as visible.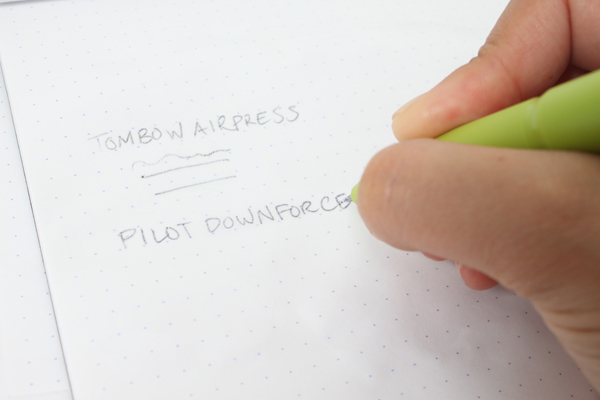 Lastly, we tested out the capabilities of the ever-popular
Uni-ball Power Tank
pen. This pen wrote just as smoothly on our wet paper, and the ink appeared slightly darker. It did however, seem to feather a bit towards the end, when it hit a particularly saturated part of the paper with standing water on the surface.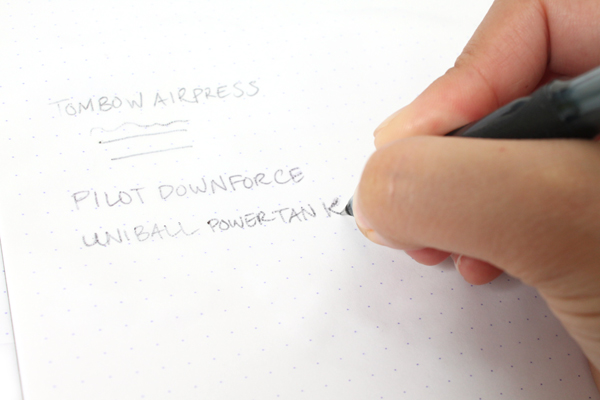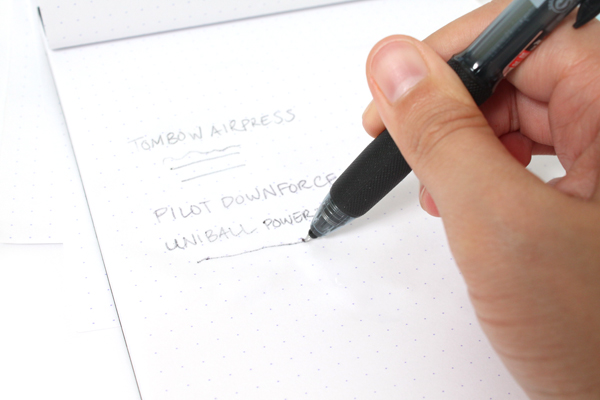 Over all, these pens are true to their advertising and write very well on a very wet piece of paper. I was also able to write with them at a ninety-degree angle, and even upside down on a post-it stuck under my desk! What would
you
use these versatile pens for?
---
---
---
comments powered by Disqus