---
This item has been discontinued. A similar pen that celebrates Japanese culture is the Zebra Minna Mini Ballpoint Pen, which you can see here.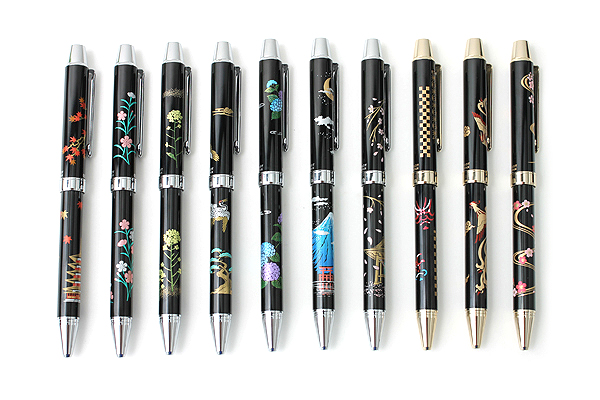 The
Pilot 2+1 Miyabi Emaki Multi Pens
recently graced JetPens as elegant masterpieces of Japanese culture and beauty. Before taking a closer look at the pens themselves, let's delve into the inspiration behind the Pilot 2+1 Miyabi Emaki.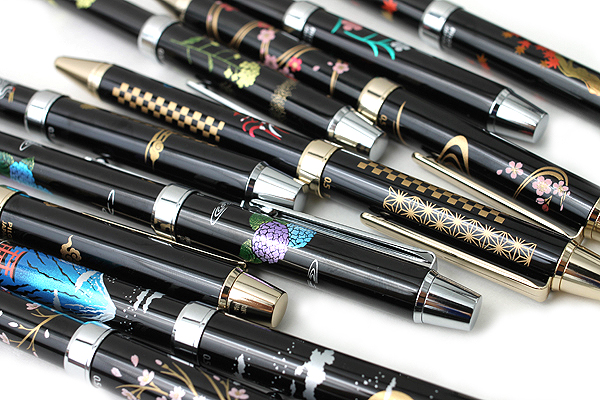 Miyabi
refers to the Japanese aesthetic ideal of removing anything rough, crude, or vulgar. Though honorable in its intent, striving for such a standard can also restrain the expression of true emotion. In modern Japanese translations, the word means "elegance" but can also allude to a "heart-breaker."
Emaki
, also known as
emaki-mono
, literally translates to "picture roll" and refers to a Japanese narrative of both writings and drawings on a horizontal handscroll. Formed during the 11th to 16th centuries, some of the emaki are considered national treasures of Japan.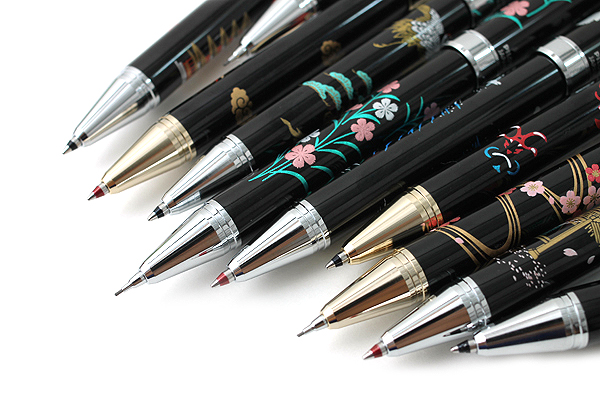 The scrolls average about one foot in width and 30-40 feet in length. Made of either paper or silk and wrapped around a wooden rod, the scroll is unfurled from right to left exposing only a portion of the emaki at a time. Reading the scroll mimics unraveling a roll of film and discovering each individual scene. Within these scrolls contain stories and accounts of legends, battles, religion, and history with pictures at the beginning, end, or interspersed throughout.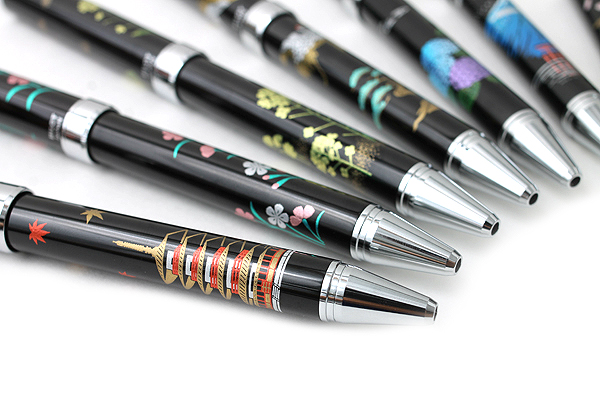 One of the handscrolls,
The Tale of Genji
, is considered as the world's first novel. Written in the 11th century by Murasaki Shikibu, the text and illustrations depict the romantic and political intrigues around the titular character, Genji, as the son of an emperor. Life within imperial courts is further complicated by the myriad of relationships that Genji enters into, even leading to a period of exile. With 54 chapters spanning Genji's life and death,
The Tale of Genji
explores themes of love and loss within the transience of life. Read more about this emaki masterpiece
here
.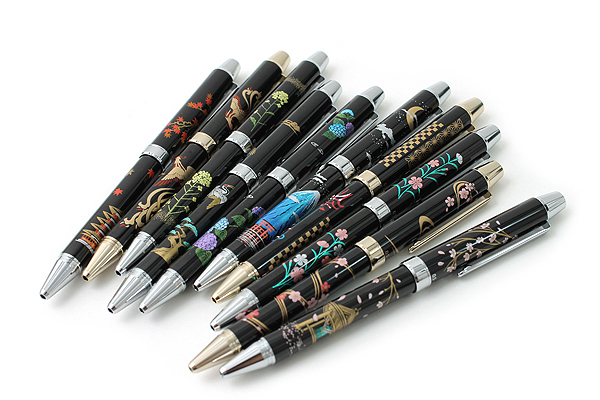 With such a rich history behind the inception of these pens, the
Pilot 2+1 Miyabi Emaki Multi Pens
are simple yet sophisticated, demure yet dignified. There are 10 designs that each project a different personality while still maintaining the same calming undertones of class and grace. Illustrations ranging from cranes to cherry blossoms, Kabuki (Japanese theater) makeup to Mt. Fuji lay stunningly against the black body.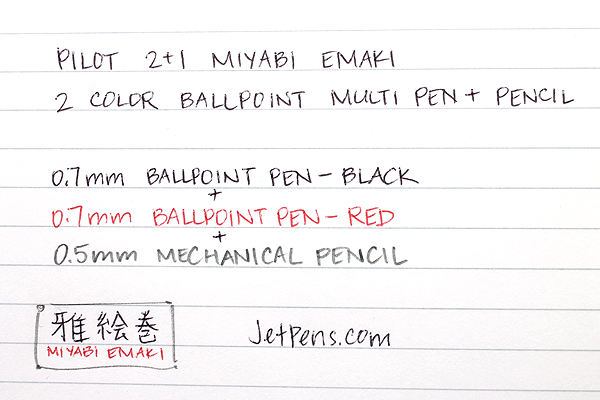 The multi pen features a 0.5 mm pencil component and two 0.7 mm ballpoint inks in black and red. The rotating mechanism enables you to smoothly switch among the different components by twisting the body. Ballpoint refills are available in black, blue, green, and red so you can customize these exquisite pens. Capture a piece of Japanese elegance and culture through the Pilot 2+1 Miyabi Emaki.
------------------------------JetPens Giveaway------------------------------
This contest has ended.
Like JetPens on Facebook
to find more giveaways every month!
------------------------------JetPens Giveaway------------------------------
Celebrate and explore more of Japanese culture at JetPens with a $25 JetPens Gift Certificate!
Rules:
1. Entries will be accepted from now until Friday, September 28th, 2012 at Midnight Pacific.
2. One winner will be selected from all entries and announced here on Saturday, September 29th, 2012 on our blog.
How to Enter:
1. Leave a comment on this post.
2. Increase your chances of winning by helping us spread the word about this column. You can submit up to three additional entries by sharing this post through the social media buttons on the bottom of this post. You can Tweet about this post, post it to your Facebook wall, and/or share it on Google Plus.
3. For each additional entry, make sure to leave a separate comment on this post.
4. You can have a total of four entries in this contest provided that you leave additional comments after sharing this post through the aforementioned social media outlets.
Thanks for participating!
---
---
---
comments powered by Disqus