---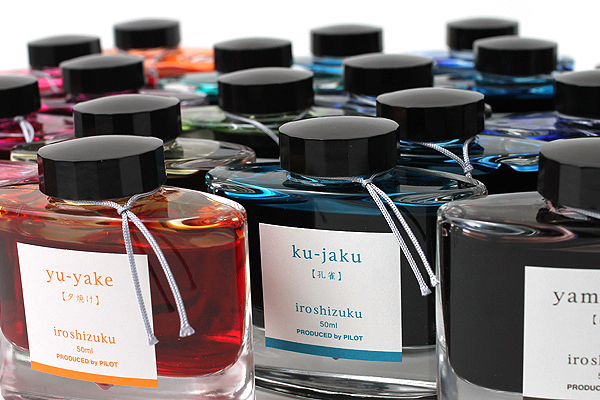 The
Pilot Iroshizuku Fountain Pen Inks
have continually mesmerized with colors both rich and lively. Inspired by the fascinating landscapes of Japan and her lush array of plant life, each ink is carefully formulated as representations of Japan's beautiful scenery. With "iro" standing for coloring and "shizuku" meaning droplet, the result is a collection of natural hues crafted with the highest standards and variations in color.
JetPens currently carries 24 different inks of the
Iroshizuku
line. Even with inks ranging from one end of the color spectrum to the other, the different shades within each ink create even more nuances. These inks will befit any occasion and satisfy any mood.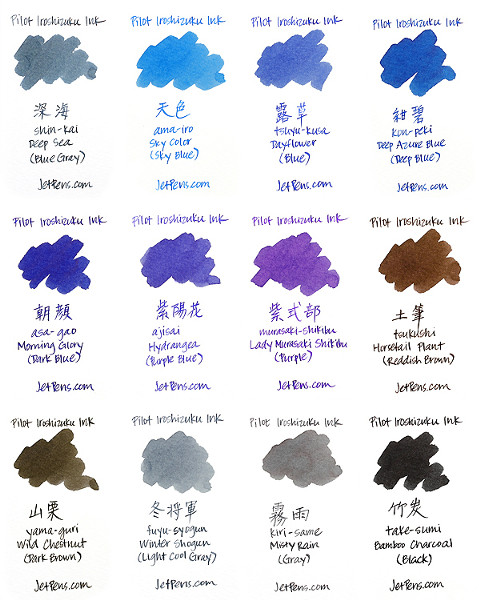 When in the office, grace your workplace with robust shades of black,
Take-sumi
(Bamboo Charcoal), and blue,
Asa-gao
(Morning Glory). The lighter
Ama-iro
(Sky Blue) matches a clear sky while
Kiri-same
(Misty Rain) casts the gray of a wet winter day. If you seek something more earthy, the
Tsukushi
(Horsetail Plant) and
Yama-guri
(Wild Chestnut) offer rich browns.
If you're at home or feeling more playful, the
Chiku-rin
(Bamboo Forest) gives an exotic yellow green and the
Fuyu-gaki
(Persimmon) seduces with its vermillion red orange. The turquoise colors of the
Ku-jaku
(Peacock) and
Syo-ro
(Pine Tree Dew) add a little zest while the
Yama-budo
(Wild Grapes) and
Momiji
(Autumn Leaves) calm with their soothing purples and crimsons.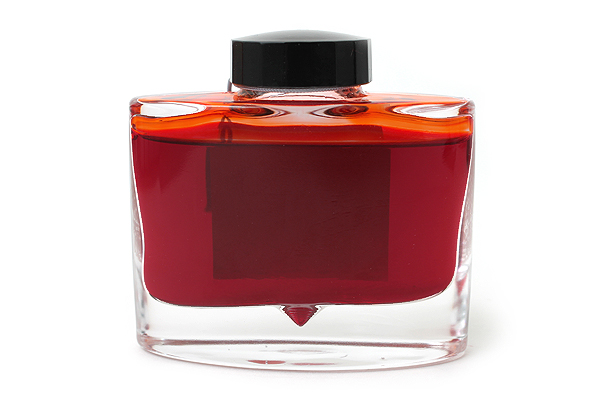 Not only have the inks been crafted with care, much attention has been given to the presentation and functionality of the bottles that house these quality inks. As such, the
Iroshizuku inks
were awarded the Japan Package Design Gold Award in 2011. Each ink comes in a hefty, bottom-heavy glass container to prevent the bottle from spilling over while you refill your pen. An innovative dip at the bottom allows you to soak up and enjoy every last drop.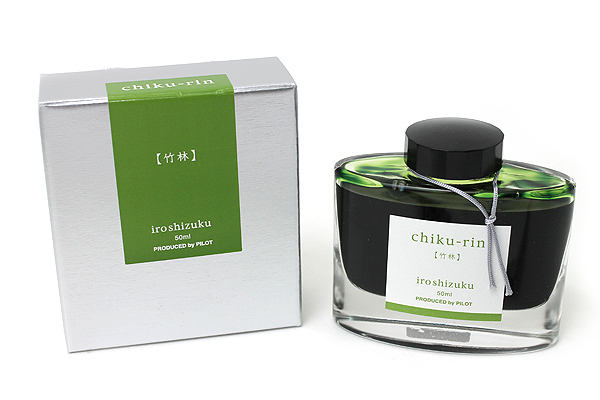 A complete package from the simple, silver box to the striking glass bottle to each precious drop of ink. These organic colors are the expressions of the different facets within the alluring Japanese landscape. Partake in her beauty as you express yourself with the
Iroshizuku inks
.
---
---
---
comments powered by Disqus