---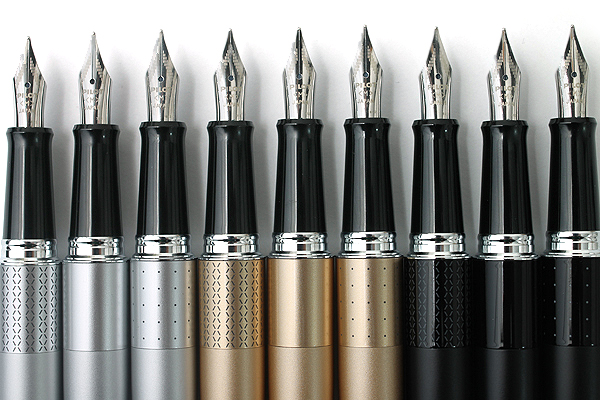 What first comes to mind when you think of
fountain pens
? What feelings are evoked?
For some, there is a sense of fondness, like recollecting faraway memories of your quirky uncle. You may have seen him around from time to time, but even though you always found him pleasant, you never were too close. In others, there is a deep affection, like with a best friend so dear she becomes an extension of you. There's a bond of oneness, togetherness that is forged over many years. And then there are those who don't know what to make of fountain pens. You know the instruments are used for writing but they seem too lofty and too sophisticated for you, like the prom king or prom queen you could only stare at from afar during those formidable years in high school.
The perception of
fountain pens
has shifted to and fro over the years but, to a large extent, there is still an aura of luxury and class that many find to be beyond their reach. Littered among the minds of many are thoughts of jewel-encrusted pens that shine so bright that all in the room are practically blinded. Nervousness and confusion enter swiftly as soon as a fountain pen is anywhere near and we balk at even trying to handle these fine writing instruments. And while there have been noble efforts to welcome novices into the Promised Land of fountain pens, there is still an unease and caution with which we approach the unfamiliar.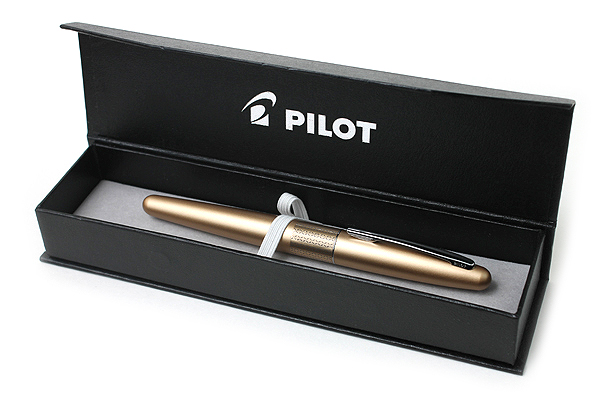 With all that being said, here is where the
Pilot Metropolitan Fountain Pen
steps in. Bridging the chasm between high-end and beginner fountain pens, the Pilot Metropolitan appeals to both newcomers and veterans. Unlike many starter fountain pens made of plastic and looking almost childish, the Metropolitan is made of a brass body with a matte finish, and refreshing chrome accents. Available in black, gold, and silver, there are also three different patterns to choose from that adorn the band near the cap. It is subtle yet sophisticated, classy but not pretentious. Not only does it look like a luxury pen, it also performs like one too. There's a reason this pen has been lighting up fountain pen forums like
Fountain Pen Network
and
Fountain Pen Geeks
, and garnering rave reviews. The body of the pen is slightly wide with ample weight so the pen is easy to hold and is neither too light or too heavy, which can cause hand fatigue while writing. The smooth ink flow means you'll be effortlessly gliding across the page rather than scratching grooves the size of the Grand Canyon into your paper.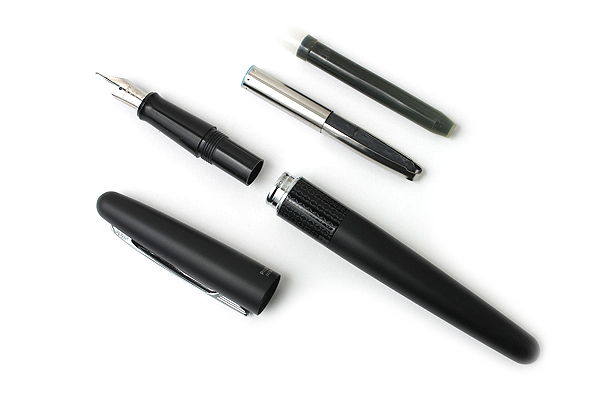 The sleek pen comes with a box, one black ink cartridge, and an aerometric converter. So begs the questions, "How does this pen usher those who are completely new into the world of fountain pens?" Priced at less than $15, the quality certainly does not match the cost. But don't be fooled into thinking the Metropolitan is a mere bargain pen. The price of this pen is surely not indicative of the quality, and quality surely need not be complicated or intimidating. The Pilot Metropolitan remains friendly and easy to use. If you've never used a fountain pen before, one of the first steps is to insert your ink cartridge into the nib component. Here's a
video
of the simple installation on a different fountain pen. As you become more familiar with your pen, the included converter allows you to experiment with a greater variety of
bottled ink colors
rather than just rely on the standard ink cartridges. Here's an
article
on how to use your aerometric converter to refill your pen.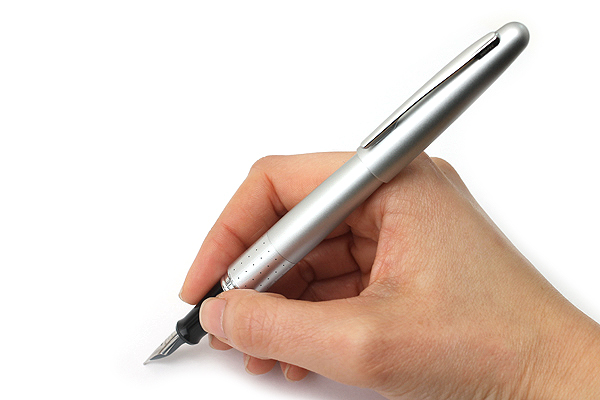 For both newcomers and veterans alike, the
Pilot Metropolitan
is a must-have. It has the potential to change the landscape of fountain pens by presenting a quality pen with a wide appeal and a friendly price. Some have even started to compare it to the Lamy Safari which has long been considered by many to be the gold standard when it comes to introductory fountain pens. So regardless of who you are and where you are in your journey, jump aboard and ride the revolution of the Pilot Metropolitan Fountain Pen.
As you go through that experience, you may just change the way you think about fountain pens. So ask yourself again: What first comes to mind when I think of fountain pens? What feelings are evoked?
---
---
---
comments powered by Disqus