---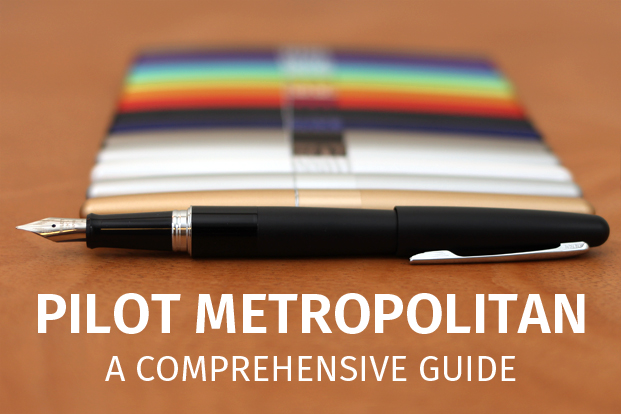 Fountain pen users are a diverse bunch, but most are searching for that one special pen that combines everything they need in one small package. It should be comfortable to use. It should be attractive. It should fit the personality of its owner and should not break the bank. Above all, it should write well.
Unicorns don't exist, but that special pen does.
Enter the Pilot Metropolitan. This smooth-writing pen quickly became the go-to beginner fountain pen when it came out, but also won over fountain pen enthusiasts with its smooth writing action, classic looks, and low price.
CHARACTERISTICS OF THE PILOT METROPOLITAN
Form Factor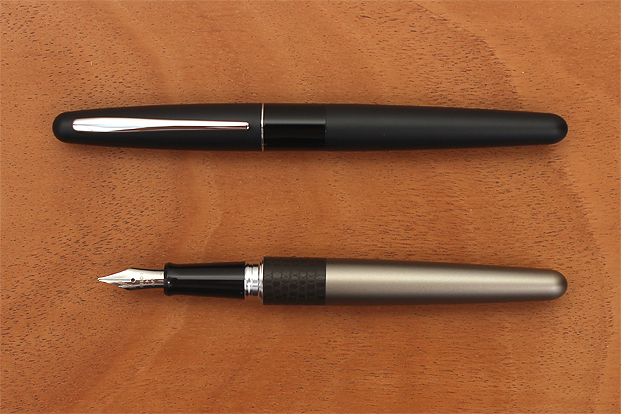 The Pilot Metropolitan is seriously classy. Its brass body is beautifully curved, with a cigar-like shape. It has an overall matte finish and a glossy or patterned band just below the cap. The grip section is black plastic. The snap-on cap features a simple metal clip, and can be posted on the back of the pen. Overall, it is a refined-looking pen that seems at least twice as expensive as it is.
Nib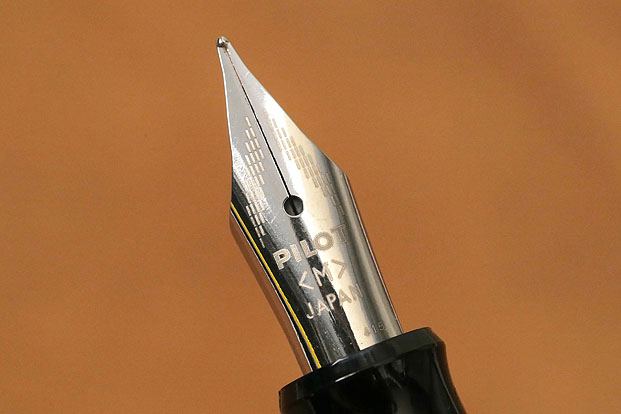 The Pilot Metropolitan shares its remarkably high quality nib with some of Pilot's premium pens. It comes in a rounded shape that is good for handwriting, and is available in either medium or fine. The best size for you depends mostly on how big your writing is. If you make tiny letters, you'll want a thin nib. Bear in mind that since Pilot is a Japanese company, the nibs are about a size smaller than Western nibs with the same name.
The steel nib is stiff, with some give, so it is a good choice for beginners and others who do not write in the Spencerian or Copperplate scripts. Replacements are not sold separately, but the Pilot Metropolitan can take Italic and extra fine nibs from the Plumix and Penmanship lines for those who want to do calligraphy or need an even smaller size.
For more information on nibs in general, see our Guide to Choosing a Fountain Pen Nib.
In the Box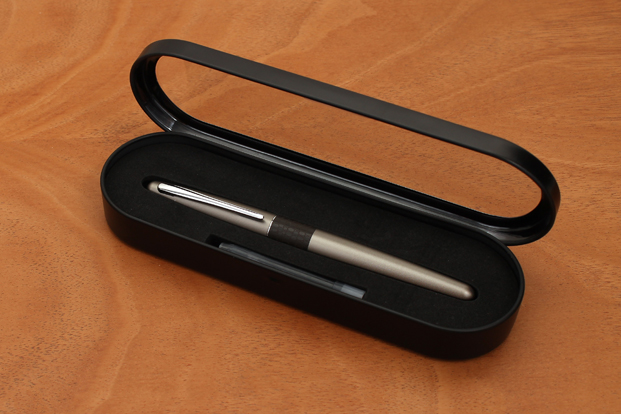 The two main ways of loading ink into a fountain pen are by using pre-filled cartridges or converters that draw ink from a bottle. The Pilot Metropolitan can accommodate both options.
It ships with a black cartridge, which can be supplemented with proprietary Pilot cartridges in seven colors. You may prefer to use cartridges if you are concerned about spilling ink or want to refill your pen while out and about.
The Pilot Metropolitan also comes standard with a squeeze converter that is similar to the CON-20. It will accommodate the CON-50 for those who prefer a piston converter. Using a converter lets you use more different colors, and is more cost-effective in the long run. The best type of converter depends on personal preference.
All of this is packaged in a handsome display case tucked inside a cardboard box.
COLLECTIONS
The Pilot Metropolitan is available in three vibrant color collections. With twenty total options, there is a design to fit every personality.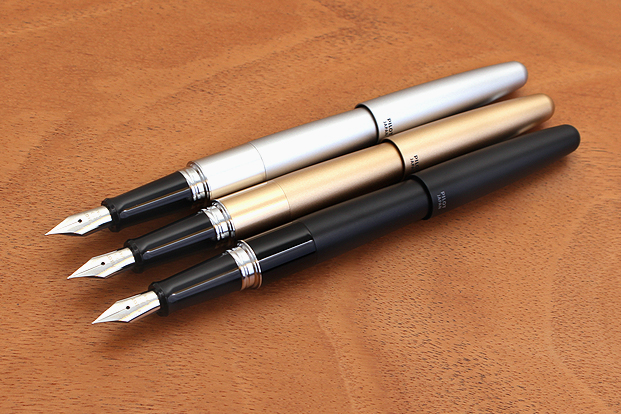 Originally limited to black, silver, and gold, Pilot has expanded this line to include stylish accents. The classic color scheme and subdued patterns make this business-appropriate collection the choice for those who prefer understated elegance.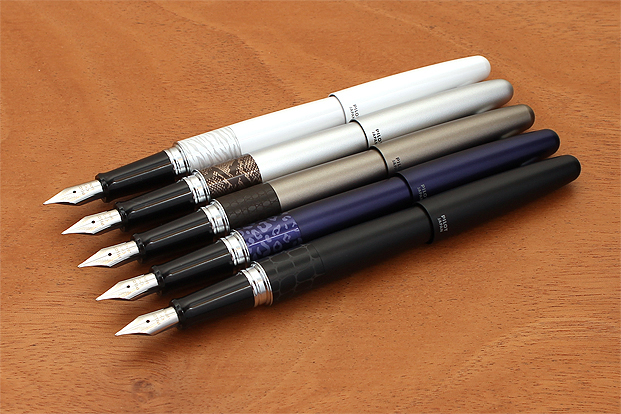 Are you feeling foxy? This is the collection for those who want to show their wild side. Five barrel colors are paired with tasteful animal accents that add a touch of individuality without being overwhelming.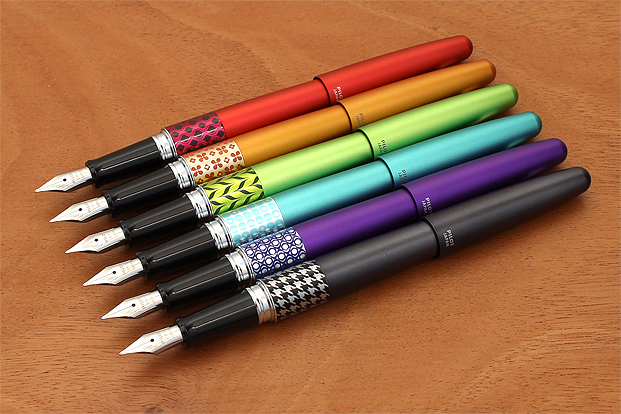 This limited edition collection bursts with fun, bright, never-seen-anywhere-else colors and patterns. If you like color that pops, want to stand out, or just make sure that no one ever mistakes your pen for theirs - this is the collection for you.
TESTING
We tested both the medium and fine sizes of the Pilot Metropolitan on four points: smoothness, writing speed, flex, and comfort. We used both Rhodia No. 13 paper and regular printing paper.
Smoothness
We loved how smooth this pen was. Both nib sizes had some feedback on the printer paper, meaning that we could feel the texture of the paper as we wrote. The fine had more feedback, which we expected given its smaller size. Even so, both produced smooth, continuous lines without a trace of scratchiness. We experienced significantly less feedback with the fine on the Rhodia. The medium was so smooth on the Rhodia that it seemed to glide across the page, and we found ourselves looking for reasons to keep writing.
Paper can make a big difference when writing with a fountain pen. Check out Our Favorite Notebooks for Fountain Pen Use, and Fountain Pen Paper Recommendations.
Writing Speed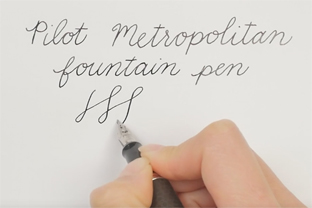 Both the fine and the medium kept up perfectly when we wrote as fast as we could, with no skipping at all. They also did not pool when we wrote slowly. They may have laid down a marginally thicker line at slower speeds, but the difference was so slight that we almost couldn't see it.
Flex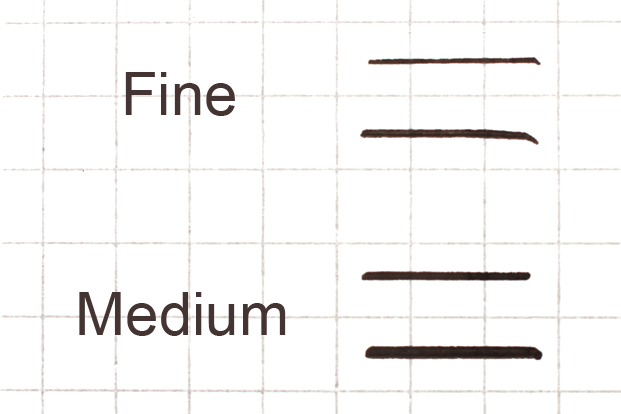 Both sizes have a decent amount of flex for a steel nib, with firm pressure resulting in a noticeably thicker line.
Comfort
The shape and weight of the pen make it comfortable to hold whether it is posted or unposted. It felt slightly top-heavy and more secure in our grip when posted, and slightly lighter when unposted. It has more heft than plastic pens, but feels solid rather than heavy. It was not tiring to use even after several paragraphs. The grip is somewhat narrow, and steps down from the wider body. Those who grip their pens higher up may find that the step gets in the way, but it worked well for us.
METAL BODY PENS UNDER $25
Although there are other metal-body fountain pens at a similar price-point, the Pilot Metropolitan is the only one to offer multiple nib sizes, converter capability, and a phenomenal range of colors. When you consider its quality construction, appearance, and smoothness, it is no mystery why the Pilot Metropolitan has become a choice pen for beginners and seasoned fountain pen users alike.
---
---
---
comments powered by Disqus