February 27, 2012 - Posted by Brad Dowdy to
Pen Perks
---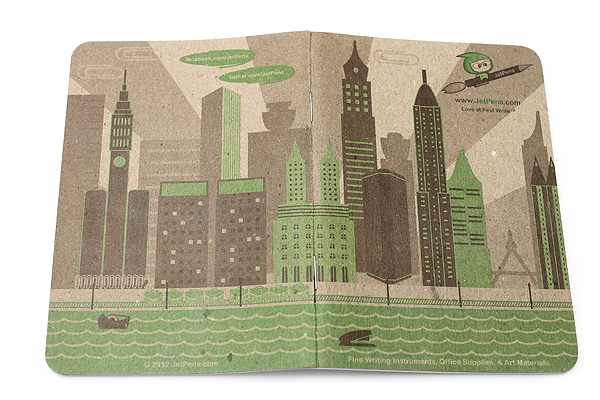 ------------------------------JetPens Giveaway------------------------------
This contest has ended.
Like JetPens on Facebook
to find more giveaways every month!
------------------------------JetPens Giveaway------------------------------
You have all seen our
JetPens ScoutBook Notebook
by now, right? The Pentown design incorporates all kinds of office supplies into a beautiful cityscape. From pen-shaped buildings to tape dispenser boats, office supplies are everywhere!
How many office supplies can you find on the front and back cover?
Play "I Spy" and you can win a $25 gift certificate!
Here is how to enter:
1. Take a close look at the images on the
Pentown product page
, or even better, the one sitting on your desk.
2. Send an email to jetpromos@jetpens.com with your answers and " I Spy Pentown" in the subject line. You do not need to include any brand names, only the type of product, quantity, and what it represents. For example (these are not actual answers):
1 Fountain Pen (building)
3 Paper Clips (clouds)
... and so on.
3. The person with the most accurate list of products and quantities will win a $25 gift certificate! In the case of a tie, one winner will be picked at random.
4. You have until Thursday, March 1st, 2012 at midnight Pacific to email in your answers. The winner will be posted on Friday, March 2nd along with the full list of products.
Have fun, and good luck!
---
---
comments powered by Disqus