---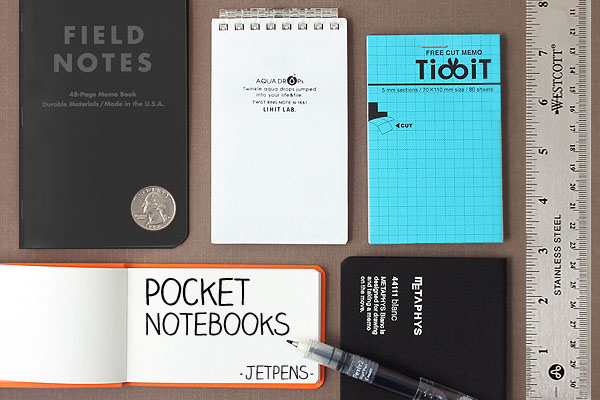 When you keep a pocket notebook, surprising things happen. The transient ideas that bubble up, surfacing from time to time in your subconscious, suddenly have a place to go. Appointments, conversations, diagrams, passwords, and poems form a small riot within its pages.
Still, the photos of meticulously organized Moleskines on Instagram can be intimidating. It's easy to get the feeling that pocket notebooks must be aesthetically pleasing, or that every page should be polished and perfect. In reality, pocket notebooks are just accessible, reliable, and predictable receptacles for information of every kind. Write down all of your half-baked thoughts, nonsensical ideas, and mundane observations... and somewhere in there, you should be able to find a small and quiet sliver of genius.
In this article, we'll cover the advantages of using a pocket notebook, highlight a few stand-out notebooks from our selection of Pocket Notebooks, and start you out with a few ideas on what to write.
ADVANTAGES OF USING A POCKET NOTEBOOK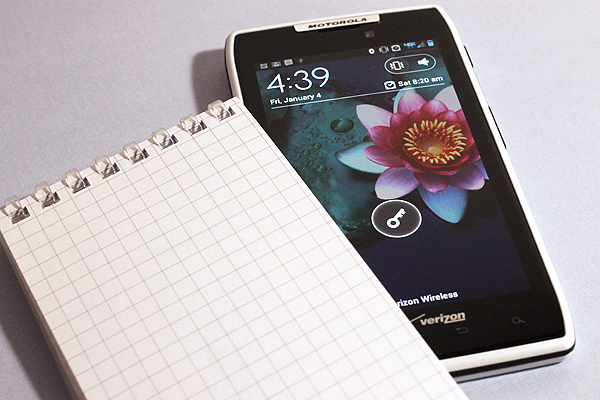 Accessibility: Say you're trying to record a phone number as quickly as possible. To save a contact on a smartphone, you have to turn the touch screen on, unlock it, navigate to your contacts app, add a new contact, and enter the number with a cramped and unreliable keypad. At each step there's plenty of room for user and software error, and the concern of battery life adds even more friction to the process. In comparison, pen and paper are fast and predictable.
Permanence: Pocket journals give an excellent sense of a person's everyday life. There are journals that have been around for hundreds of years, and can easily last for hundreds more (Mark Twain, Henry David Thoreau, and Benjamin Franklin, to name a few). Ever find a box of homework from fourth grade in the attic that mom never got around to tossing? Or an old journal full of recipes? These things are often passed down from generation to generation, imparting a sense of culture and identity upon its recipients.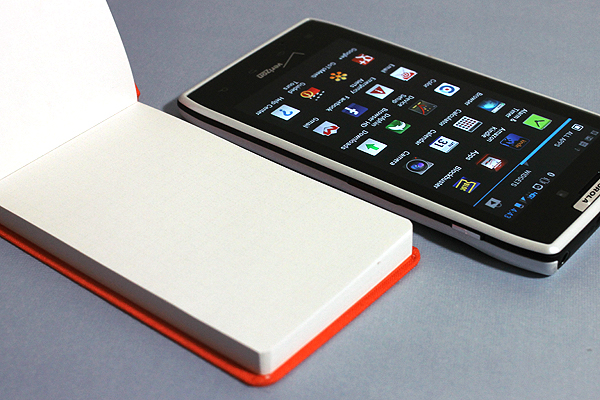 Focus: Sometimes, all you want to do is write. Digital devices are awesome because they can multi-task. You have your music, movies, books, chat, internet, banking, camera, and everything else you could conceivably want right at your fingertips. But there's a trade-off: you're constantly barraged with notifications of all kinds. Every now and then, it's a relief to take refuge in the peace and quiet of a blank page.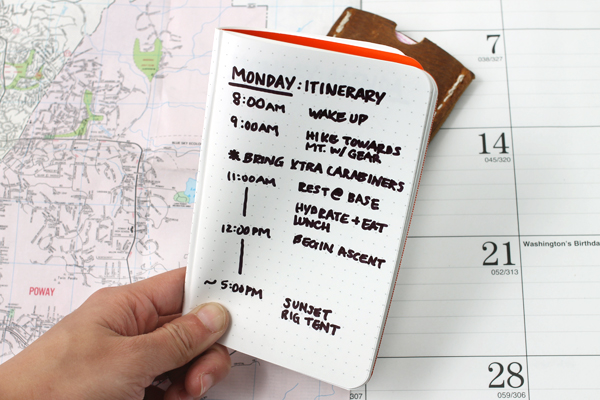 Organization: Pocket notebooks are usually catch-alls, receiving all kinds of input from your daily life. The information tends to be recorded in the order you received it, and can't be re-organized according to subject, chronology, or usefulness. Although notebooks receive information well, they aren't so great at retrieving it, especially if you're looking for something specific. In the end, you're stuck with a notebook that's 50% irrelevant -- appointments that have passed, shopping lists containing items that have already been purchased, and so forth.
This can be very frustrating. The thing is, most pocket notebooks are not meant to be the permanent resting place for important information. A pocket notebook works better if you treat it like a temporary transit station, housing the information safely until it can be shuttled to its proper residence. For an example, appointments can be added to your office calendar, recipes to the large notebook in the kitchen, and phone numbers to your smartphone.
STAFF PICKS
Everyone has different requirements when it comes to pocket notebooks, but some qualities you should consider in the selection process are: aesthetics, durability, size, binding, paper quality, and type of rule. If you have an extensive fountain pen collection, you'll probably want a pocket notebook that can handle wet ink. Conversely, lawyers looking for a quick jotter might not care about paper at all. Click on the writing samples for a bigger view.
10 THINGS TO WRITE IN YOUR POCKET NOTEBOOK
Have a shiny new pocket notebook, but still clueless about what to write? In case the esteemed examples listed above have somehow failed to get your heart racing with an insatiable zest for pocket notebooks (and life in general), here are some quick ideas on what to write in your pocket notebook:
Ridiculously long Wi-Fi passwords
Character names for your novel. If the novel doesn't work out, you can always distribute the names to children and pets.
Family recipes
Names that are so perfect for a Norwegian death metal band that you have to write them down, despite the fact that you don't, nor will you ever, listen to Norwegian death metal.
Dinner with mom at 6:30 - DO NOT FORGET
Foreign phrases that require translation.
T-shirt designs involving herds of roaming jellyfish
Travel plans for Morocco. Morocco tops the list of desirable travel destinations because the fictional city Agrabah (depicted in Aladdin) was based on one of its cities. Yes, it actually exists! In real life!
Songs to buy later. In the era of mashups and remixes, this results in an unmanageable list of ridiculously named songs like "Black Van & Oliver vs. Goldroom - Inside Fifteen Ft. Chela (Silenx Mashup)". Yes, this is a real song.
WRAPPING UP
The immediacy of the pocket notebook is what makes it so special. Inspiration doesn't usually stick around, and so most first impressions, crazy business ideas, and clever punchlines end up slipping through the cracks. Once you keep a pocket notebook full time, you'll be surprised at the random and amusing observations that spill out.
Now that the holidays are over, people are starting to think about their plans and goals for the year ahead. For me, the blank pages of a notebook signify the promise of a fresh start. My New Year's Resolution is to stick to writing in just one at a time. What do you use your pocket notebook for?
---
---
---
comments powered by Disqus