---
During a
Parks and Recreation
binge last week, I found myself admiring Ron Swanson's office – to put it simply, it's a shrine to all that is manly. Two footballs, a pair of bronze deer statues, a framed poster of breakfast food, and a desk and two side tables populate the room. An avid woodworker, Ron did not merely purchase the desk from Ikea and assemble it with the help of a flimsy manual. He scouted the appropriate tree, chopped it down, sawed it into pieces, sanded the pieces, and then assembled it with hammers and drills and other tools befitting a competent carpenter.
This got me thinking, and upon further investigation, I became fairly certain that each item in Ron's office had a specific reason for being there, which was more than could be said for my haphazard collection of junk. A renovation was in order, and with Spring just around the corner, I wanted to bring some leafiness to my workspace (luckily, we are not dealing with a whole "office" here. Just a desk).
I began with this: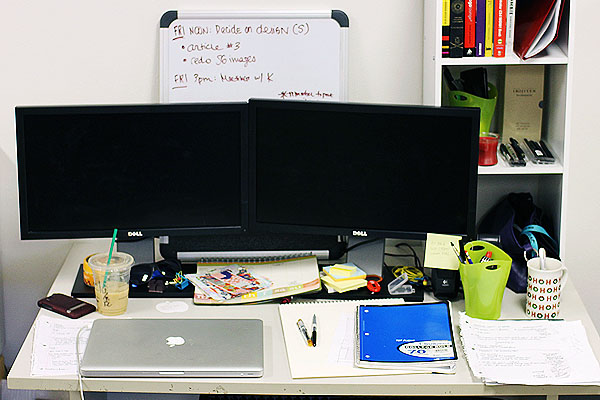 Workspace: "Before" Photo
And after a bit of rearranging and acquiring and throwing away, I ended up with this (click to expand):
It was tempting to simply recreate Ron Swanson's office in its entirety, since Ron Swanson is my hero. But in the end, I decided to go with little changes that reflected my personality. If Ron's approach to his office was something like, "let the testosterone flow through you and into the office arrangements," mine can be distilled into the following:
If you don't use it, get rid of it.
Desk space is precious, and everything in your vicinity should serve a purpose. For me, the main removal was of the bookshelf -- precarious and half-hidden behind a monitor, I didn't find myself using it or its contents very much. I replaced it with a soft and approachable
Bag Organizer
, which has plenty of pockets for miscellaneous items, and a blue shoebox.
Organize your cables in a logical way.
Between the chargers, monitors, mouse, keyboard, ethernet, and landline, most people have an impenetrable thatch of cables on, around, and under their desks. I used
Leaf Tie Cable Organizers
, in keeping with my "Spring" efforts, but masking tape would work as well. Both the leaf ties and the masking tape can be color coded, so you know which bundle of wires is for what. If you want the wires out of the way, you can tape them to trace the sides of the desk.
Create your own window to the outside world.
Because of the layout of most offices, there's only so much window-accessible real estate. Nothing is quite as depressing as staring at a blank wall. A neat amalgamation of postcards, photos, magazine clippings, and whatever else you enjoy in life can go a long way towards reminding you of why you're working in the first place.
Save your screen!
The stylish and free
Fliqlo clock screensaver
is depicted in the above computer monitors. Not only is it more appealing than a blank screen, it also lets me glance at the time without waking the computer up. It's also nice to have something diverting attention from the unavoidable dust and smudges on the monitor.
The lesson learned from this project? A little bit of effort can go a long way towards making your environment more livable. Simplify, personalize, and always remember to consult Ron Swanson, for he is an impeccable model on how to live life.
---
---
comments powered by Disqus