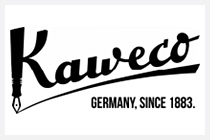 Kaweco was first established in 1883 as a dip pen factory in Heidelberg, Germany. In 1971, Kaweco obtained a license to produce a line of Sport pens for the 1972 XX Olympic Games in Munich, West Germany. In 1994, H&M Gutberlet obtained ownership of Kaweco.

JetPens.com has worked directly with Kaweco since 2010 to make Kaweco products available to consumers in the US to great success. Our customers find the Kaweco Sport line of fountain pens in particular to be of great value.

In February of 2011, an article in The New York Times newspaper mentioned the Kaweco Classic line of products, praising it for its precision, modesty, clarity, and minimal fuss.