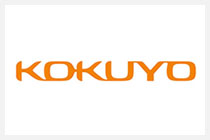 Kokuyo Co., Ltd., was founded in 1905 to manufacture book covers for account books. Back then people perceived Kokuyo as a "trash business" as few cared about book covers. However, Kokuyo's founder Zentaro Kuroda made tremendous efforts to change this perception and motivated his employees to make products needed by society. Today, the company has become a conglomerate called the "Kokuyo Group" that produces almost every type of office product imaginable.

Kokuyo's most famous paper products fall under its Campus product line. The Campus High Grade MIO paper notebooks are among the best paper products for fountain pen writing. The Campus Todai series of notebooks came out of a research project by students at Tokyo Daigaku (i.e. University) to best utilize lines and dots on each sheet of paper for study purposes.

JetPens.com customers also love Kokuyo's pencil cases. The C2 tray type pencil cases and the NeoCritz transformer pencil cases are both exemplary in their functionality and aesthetics.