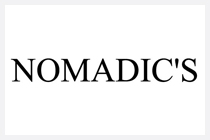 Nomadic Co., Ltd. was founded in 1974 in Tokyo, Japan, as a designer and manufacturer of various lifestyle goods centered around the theme of "move". The product line up includes bags, pouches, stationery items, etc.

Their most famous two lines are Wise-Walker and Moving Option. The Wise-Walker bags are designed specifically for urbanites who need to carry many items while on foot. The Moving Option pouches are made to help those on the move keep small items organized.

Customers of JetPens.com also adore Nomadic's pencil cases. Some bestselling lines include the PD-03 model, PE-08 model, and PE-09 model. Currently, JetPens.com is the official retailer and distributor of all stationery products by Nomadic.