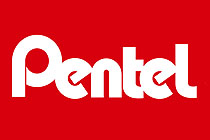 The name "Pentel" is derived from the combination of "pen" and "tell" and was originally the name of a product line. In 1971 however, Pentel Co., Ltd. of Japan adopted it as its company name after the product line of sign pens became wildly successful.

Originally founded in 1897, this writing instrument manufacturer is primarily known for its intelligently designed Pentel "Sharp" (i.e. Japanese way of calling a mechanical pencil). Other fan favorites include the metallic body Graphgear line, the variegated Graph series, and the all American beauty Kerry series.

Recently, Pentel entered the gel ink pen and brush pen categories. Both its Slicci gel ink pen and Pocket brush pen have been well received by its customers.