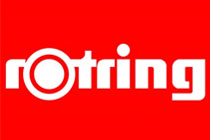 Based in Hamburg, Germany, Rotring is a German technical writing instrument company. The name "Rotring" (rot ring) means "red ring" in German. This iconic red ring is still placed around the barrels of Rotring products today.

Since its founding in 1928, Rotring has invented numerous new pen technologies. Its first product was the Tintenkuli (Inkograph), a stylographic pen (a fountain pen with a thin steel tube as its tip). In 1953, Rotring's Rapidograph gained enough popularity to become the archetypal technical pen at the time.

In 1979, Rotring launched its Tikky product line, which was a technical drawing instrument line also suitable for everyday use. The Tikky is still well received in the market today. At JetPens.com, Rotring's classic drafting pencils with model number 600 and 800 have a large following of drafters.